Driving in the Polar Vortex
Well folks, we are right in the middle of the Polar Vortex, and in true Michigan fashion, we can't be sure if next week is going to be a false spring or colder than the North Pole. Just to be on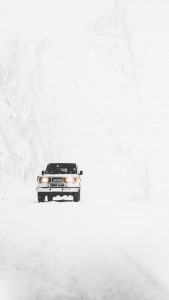 the safe side though, if you haven't already giving your vehicle some special attention this winter, here are a few tips from L& T, the best local auto shop near you:
Check your tire pressure– including your spare. To avoid that TPMS light going on in the midst of a trek out of town, or worse, sliding around an icy back road, get your tire pressure checked frequently. If salting the road just isn't keeping you from slipping all over the place or getting stuck in the snow, consider bringing your vehicle in today to get new winter tires.
Keep your gas tank ½ full– To avoid those gas lines from getting frozen over, keep that ½ tank full.
Get your battery checked– Is the battery in your winter-worn Dodge nearing its third or fourth birthday? If it is, there's never a better time to replace your truck battery. Unfortunately, batteries don't always warn you when they're about to fail, so to be on the safe side, get it checked and replaced before it becomes a problem.
Make sure your brakes work well– There is nothing more terrifying than feeling your car spin out on the ice. If you have any doubts about the condition of your vehicle's brakes, bring it in today and our mechanics will service them for you.
Drive slowly and safely– Running late for work? Don't risk your safety by going above the speed limit in the winter weather! Go the speed limit, stay safe, and drive with extra caution as Michigan weather fluctuates between sunny and freezing rain.
https://landtautorepair.com/wp-content/uploads/2018/12/logo2.png
0
0
L&T Auto Repair
https://landtautorepair.com/wp-content/uploads/2018/12/logo2.png
L&T Auto Repair
2019-02-14 15:02:22
2019-05-17 10:02:15
Driving in The Polar Vortex